Wonflam MR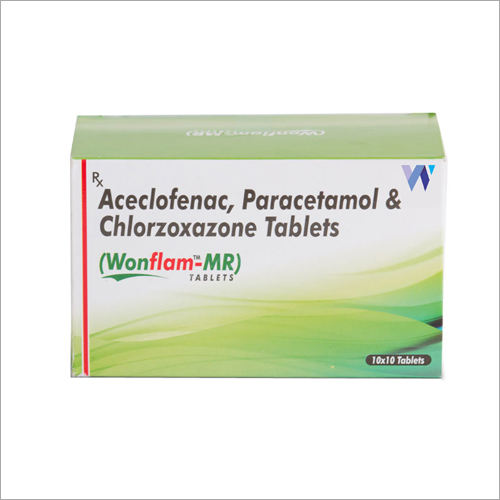 Wonflam MR
Price And Quantity
Piece/Pieces

Any Bulk Order Pack
Product Description
Composition
Aceclofenac IP 100 mg. + Paracetamol IP 325 mg. + Chlorzoxazone USP 250 mg.Tablets
Indications
Sports Injury
Muscular Spasm
Sprains & Strains
Prolapsed Intervertebral Disc (PIVD)
Low Back Pain
Contraindications
Aceclofenac: Hypersensitivity to Aceclofenac or to any of the excipients listed in section 6.1 Active, or history of recurrent peptic ulcer/hemorrhage (two or more distinct episodes of proven ulceration or bleeding). NSAIDS are contraindicated in patients who have previously shown hypersensitivity reactions (eg. Asthma, rhinitis, angioedema or urticaria) in response to ibuprofen, aspirin, or other non-steroidal anti-inflammatory drugs. Hepatic failure and renal failure. Patients with established congestive heart failure (NYHA II-IV), ischemic heart disease, peripheral arterial disease and/or cerebrovascular disease. History of gastrointestinal bleeding or perforation, related to previous NSAIDS therapy. Active bleedings or bleeding disorders. Aceclofenac should not be prescribed during pregnancy, especially during the last trimester of pregnancy, unless there are compelling reasons for doing so. The lowest effective dosage should be used
Paracetamol: Before taking acetaminophen, tell your doctor or pharmacist if you are allergic to it; or if you have any other allergies. This product may contain inactive ingredients, which can cause allergic reactions or other problems. Talk to your pharmacist for more details. Before using this product, tell your doctor or pharmacist your medical history, especially of: liver disease, regular use/abuse of alcohol.
Chlorzoxazone:
Coadministration with other CNS depressants, driving or operating machinery, ethanol ingestion
Hepatic disease, hepatitis, jaundice
Renal failure, renal impairment
Geriatric
Pregnancy
Breast-feeding
Children, infants
Side Effects
Aceclofenac: Some common adverse effects include gastro-intestinal disorders (dyspepsia, abdominal pain and nausea), rash, ruber, urticaria, symptoms of enuresis, headache, dizziness, and drowsiness [L869]. Oral LD50 value in rats is 130 mg/kg [MSDS].
Paracetamol: Oral, mouse: LD50 = 338 mg/kg; Oral, rat: LD50 = 1944 mg/kg. Acetaminophen is metabolized primarily in the liver, where most of it is converted to inactive compounds. Chlorzoxazone Oral, mouse: LD50 = 440 mg/kg; Oral, rat: LD50 = 763 mg/kg; Symptoms of overdose include diarrhea, dizziness, drowsiness, headache, light-headedness, nausea, and vomiting.
Chlorzoxazone: Gastrointestinal bleeding, drowsiness, dizziness, lightheadedness, feeling unwell, over-stimulation and rarely, allergic-type skin rashes.
Dosage
For Adults- Usually, for adults, 1 tablet orally, 2-3 times daily after a meal without chewing. Dosage may be increased or decreased according to the condition.
Presentation
Wonflam-MR Tablets are available in Alualu strip with 10x10 packing