Wonflam-BR Tablet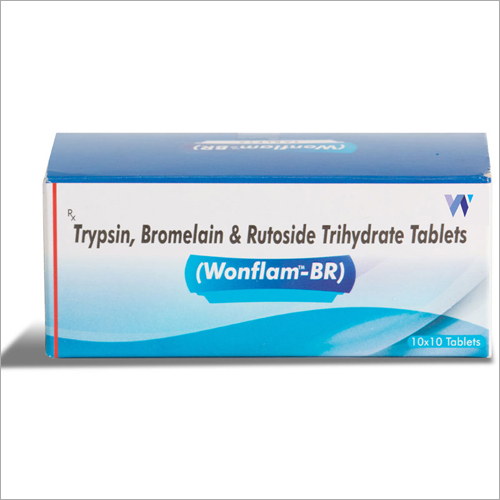 Wonflam-BR Tablet
Price And Quantity
Piece/Pieces

Any Bulk Order Pack
Product Description
Composition
Trypsin BP 48 mg. + Bromelain 90 mg. + Rutoside BP 100 mg.Tablets

Indications
Edema & Inflammation
Arthritis
Post-Operative Conditions
Abscess & Sprain
Contraindications

Trypsin: Contraindicated to the patients with severe lever & kidney impairment, peptic ulcer, high vitreous pressure & hypersensitivity to it.
Bromelain: Allergies: If you are allergic to pineapple, latex, wheat, celery, papain, carrot, fennel, cypress pollen, or grass pollen, you might have an allergic reaction to bromelain. Surgery: Bromelain might increase the risk of bleeding during and after surgery
Rutoside: Hypersensitivity to Rutoside.
Side Effects
It is usually well tolerated. Harmless alteration in the consistency, color and odor of stool may occur. A sensation of fullness, flatulence, and occasional episodes of nausea are possible during high- dosage administration
If these symptoms persist doctor should be consulted. Allergic reaction occurs rarely and disappears after the discontinuation of the drug.
Dosage
Adults: 1 tablet three times a day, are recommended for adult patients. After a meal without chewing. Dosage may be increased or decreased according to the condition.
Presentation
Wonflam-BR Tablets are available in Alualu strip with 10x10 packing.