Pantoder- DSR Capsule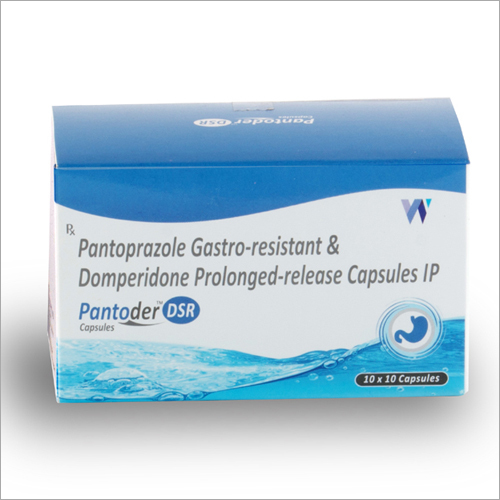 Pantoder- DSR Capsule
Price And Quantity
Piece/Pieces

Any Bulk Order Pack
Product Description
Composition
Pantoprazole 40 mg. + Domperidone 30 mg. (SR) Capsules
Indications
Peptic Ulcer
GERD
Duodenal Ulcer
Reflux Oesophagitis
Nausea & Vomiting
Zollinger Ellison Syndrome
Contraindications
Pantoprazoleis contraindicated in patients with known hypersensitivity to any component of the formulation or any substituted benzimidazole. Hypersensitivity reactions may include anaphylaxis, anaphylactic shock, angioedema, bronchospasm, acute interstitial nephritis, and urticarial.
Domperidoneis contraindicated in the following situations: - Known hypersensitivity to domperidone or any of the excipients. - Prolactin-releasing pituitary tumour (prolactinoma).
Side Effects
Headache, dizziness;
Stomach pain, gas, nausea, vomiting, diarrhea;
Joint pain;
Fever, rash, or cold symptoms (most common in children).
Presentation
Pantoder- DSR Capsules are available in Blister strip with 10x10 packing.